March 20, 2015 in News
THANKS TO THE tireless research by several PCO members, a backlog of worthwhile cartoon news from around the globe appears in the form of links in the members' forum pages.
It's more practical, to say nothing of time-saving to sometimes simply re-post the links for public consumption here:
Asterix cartoon raises £100,000 for Charlie Hebdo victims
A comment from The Guardian about their own cartoonist: I may not always agree with cartoonist Steve Bell, but I defend his right to draw

As part of its 2015 Freedom of Expression awards, Index on Censorship asked cartoonists from around the world to reflect on their own experience of creative liberty – or the lack of it. From The Guardian: Freedom of Expression Awards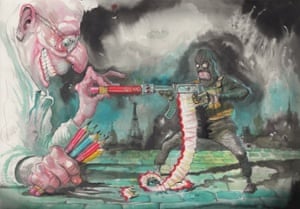 Shropshire Live reports that Shrewsbury's festivals will literally pass the baton to one another after many of the town's attractions signed up to a fantastic new initiative. Over the last few years the number of festivals held in Shrewsbury from the spring, throughout the summer and into the autumn has shot up, including the annual Shrewsbury International Cartoon Festival. And this year organisers of events big and small will promote each other by the handing over of a ceremonial baton.
Read the full article via shropshirelive.com at:  Shrewsbury festivals sign up to "pass the baton"